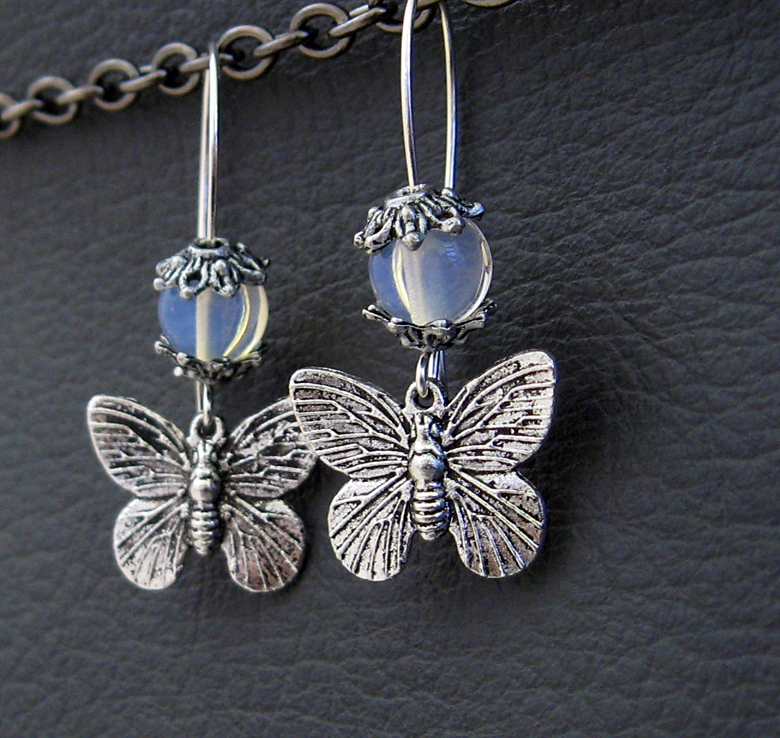 Silverlight Jewellery's Discover Me shop is on hiatus. Feel free to seek us out elsewhere.
This is a one of a kind product.
Antiqued-silver coloured moth charms hover beneath luminous, smooth rounds of moonstone framed by ornate, antiqued-silver bead caps.
The moth charms have lifelike detailing on both sides. They move slightly when the earrings are worn, as though they are fluttering against the night sky.

Moonstone – or hecatolite – is a semiprecious stone made of two minerals: orthoclase and albite. These two are arranged in very thin layers. When light strikes the layers, it is scattered, in an effect called 'adularescence'. This effect is what gives moonstone the luminous, moonlit glow from which it takes its name.
The gorgeous moonstone beads in these earrings are almost transparent, with a soft, bluish-white adularescence. Depending on the light, the stones can seem misty blue, silvery white, or glassily clear. Some of them have tiny imperfections – streaks or specks – in them, to prove that they came from the earth.

The 'Moths In Moonlight' earrings are lightweight and easy to wear. They measure 42mm from top to bottom. The little moths are 19mm across, from wingtip to wingtip.
The ear-wires are made of stainless steel, plated with silver.

The beads and bead caps have been simply slid onto the ear-wires, so it is recommended that you keep the ear-wires closed so that the beads do not slip off and get lost. Keeping the earrings hanging, rather than jumbled up in a jewellery box, will help to ensure that the ear-wires do not get opened or bent by other jewellery pieces pushing against them.
Silverlight Jewellery … soft gothic.
Postage within New Zealand is via Tracked ParcelPost.
This product will be despatched in approx 2 days. Delivery times may vary.
SHIP TO
COST
WITH ANOTHER ITEM *
Postage within NZ
$5.00
Free
Rural (RD) NZ address
$7.80
Free

* Applies if you purchase additional items from the same seller. Free freight applies to the item with lesser freight cost.
Moths In Moonlight earrings: silver moth charms with moonstone beads on silver ear-wires






Average 5 stars from 2 reviews
Got a Question?
About Silverlight Jewellery

Seller Reviews
Joanne





Lovely earrings, just as pictured and exactly what I wanted.
Samantha





Excellent service, great communication throughout the process and my friend loved the earrings I chose for her. I would definitely recommend and use discover me again.