Seller Interview: Ross Heywood from Hedgehog Love
It's unseasonably warm in Queenstown on this mid-winter day. "The grass is still alive" Ross mentions and describes the melting snow on Coronet Peak, visible from his Arthur's Point home.
Ross lives here with his partner Toyoko and a welcome bunch of small animals "on the sunny, forested side". He has been in this idyllic rural spot for many years so he knows how much snow should be around. "I'm not complaining about the warmth but economically for Queenstown you need good snow to remain." Ross's own income is partially dependent on Queenstown's bustling tourist economy and he is a regular fixture at the local markets.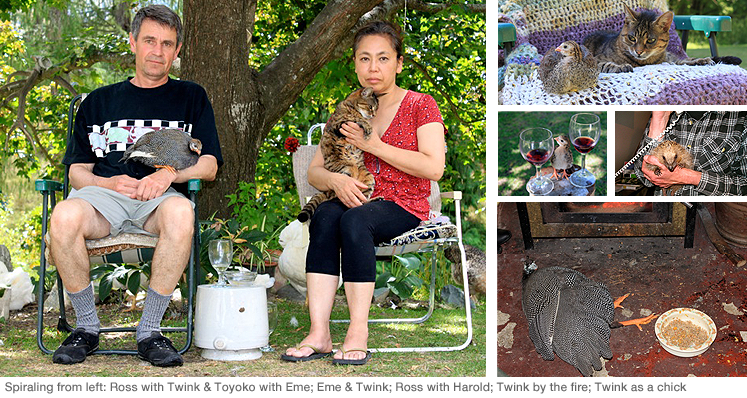 Ross's work is varied and interesting, history is often entwined in his pieces but smooth clean lines and soft finishes bring a modern edge to the silver and brass elements he favours. The name Hedgehog Love gives a hint of the passion this softly spoken man feels for animals, and is also apparent in his work.
Their family of animals are what matters most to Ross and Toyoko, namely a guinea fowl 'Twink' who Ross raised from a hatchling, Harold the hedgehog who returned even after 6 months' hibernation and the late Eme who spent her 21 year life as Ross's sidekick. Sadly Eme passed away recently and the poignant image above shows Ross and Toyoko during their precious last days with Eme.

From left: Celtic Inspired Cross, Moth Brooch, Albatross Brooch, Penny / Three Pence Keyring
I asked Ross what makes him happiest about creating.
Having the idea, battling through it then seeing something nice at the end of it. Special things like the crosses I do, getting the design nutted out, make it and it all comes together. I'm a visual person, I like pretty things and can make them.
It seems like the journey is a big part of the enjoyment for Ross. Do your pieces come out as visualised?
Yes usually. You start with a sketch on paper and when it comes out it looks better, it never seems to fail. It is critical to take time on each step to make it come out right but I don't tend to have any disasters.


From left: Key Earrings in Sterling Silver, Wine Glass Photography on Metal
Tell us about what you create:
I specialize in fine jewelry that has a strong scandinavian influence. Maybe this is from my celtic roots but anyhow my work is many and varied since I have a large skill base. My carving skills lend themselves well for the three dimensional jewelry I make. I also like making fun things with coins especially the old school ones and quite like photography too. Have also done abstract oil painting.
How long have you been making?
Have been making things since the beginning of time. I remember making miniature mud bricks as a child and building houses from them. I made an old Arabian Dhow ( Ship ) out of the old wooden ice block sticks. I used the water based PVA glue for this so when I put it in the bath for a float test some of the planks sprung open ( Bugger ). When doing metal work at school my teacher in the 5th form let me make what I wanted as the projects he set did not challenge me. The headmaster was not impressed when " Long John ", a very good teacher, showed him the dagger I made. Bone carving when I was in the Air Force followed by a jewelry apprenticeship.
How did you learn your craft and who/what are your influences?
Initially I saw someone bone carving in the mall in Takapuna Auckland. Gave it a go and found it easy. Then did a Bone carving coarse at the Whanganui Summer School of Arts under Owen Mapp. He fine tuned my skills via tools he got us to make. The carvings I created subsequently got me a jewelry apprenticeship in Palmerston North at the age of around 32.
Influenced with abstract designs that come into my head, Celtic art and also the abstract artist Kandinsky has an influence in my Scandinavian style jewelry and the paintings I have done. With my carving work Japanese netsuke, and the natural forms in nature have a strong influence.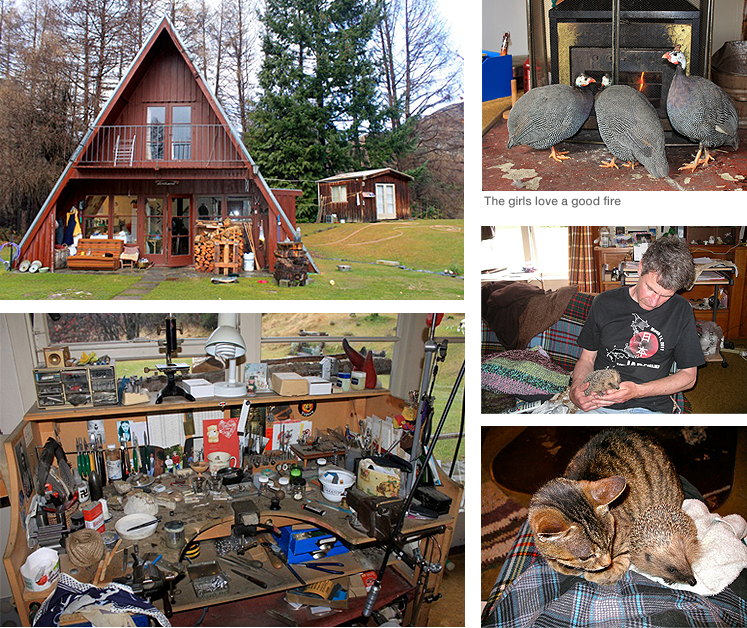 Describe your workspace and tools.
A bit messy and small as you don't need heaps of room to make small things. I basically use metal work tools in miniature.
Do you have an anecdote regarding your work that you would like to share?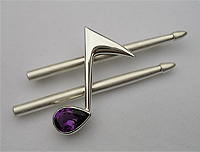 I was commissioned by a friend to make a brooch for a very well known and respected
percussionist. Was a great honor to be asked. Here is a bit about him.
A wonderful man and pianist Brent Johnston asked me to make this for his friend
Douglas Wolf. Douglas was head of percussion at Utah State University. It was to
celebrate 30 years in the music industry. He has backed Madonna, Carol King and Ray
Charles to name a few. Brent has done 7 tours with the USA Symphony Orchestra and
was a friend of Liberace the pianist.
Do you have another job?
This is my job.
Do you have a film or book recommendation for us?
" Luther " a British detective drama with the coolest of bad girls by the name of Alice. Ya just have to love her.
Care to share a recipe or favourite snack?
Cheese on toast.
What is your favourite NZ destination?
Dunedin is my fave place in NZ. Just a very very cool city.
Pay it forward: which DiscoverMe Maker would you like us to interview next?
I would like Sonia (Creative Aertz) next as I find her knitting fun and stylish. Hand knitting is a much under valued skill these days even by the generation of people who should know better regarding the time and skill required to do it.
Check out Ross's amazing body of work here.