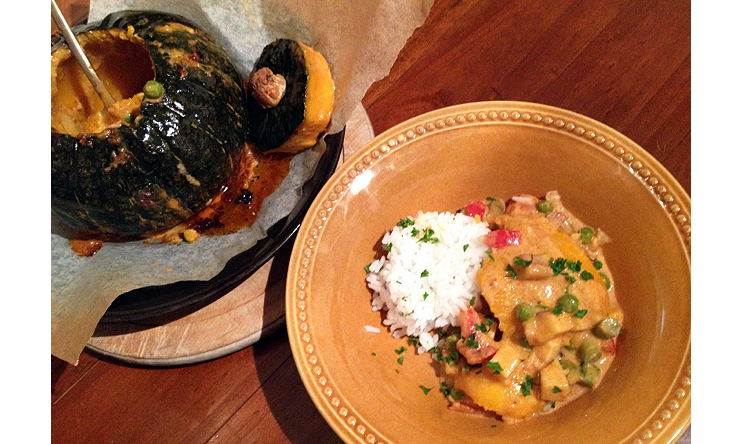 Recipe: Punkin' Curry
With Buttercup Pumpkins an affordable 99c at my local, I decided to try a recipe I have thought about for a long time - red curry filled buttercup. It turned out really well and was so simple, tasy, warm and picturesque that I wanted to share it with you.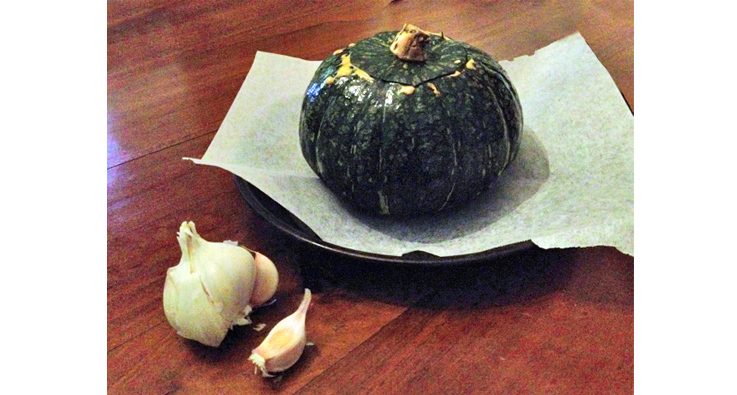 My basic rules for Thai style Red Curry are: use an authentic Thai curry paste from an asian food supplier, start the curry paste in the pan until the aroma is released, once the coconut cream/milk is added, cook until the sauce reduces and the colour changes to be sure that the full flavour has been released into the coconut.
You can put anything into this curry, I kept it all veg and served with some prawns sizzled in garlic oil. We ate it with rice. Brown rice would be superb, cous cous or quinoa would probably work well too. It was also delicious the next day totally unaccompanied. Use coconut cream or milk, I tend to go for cream as it thickens nicely and it's a 'good' fat.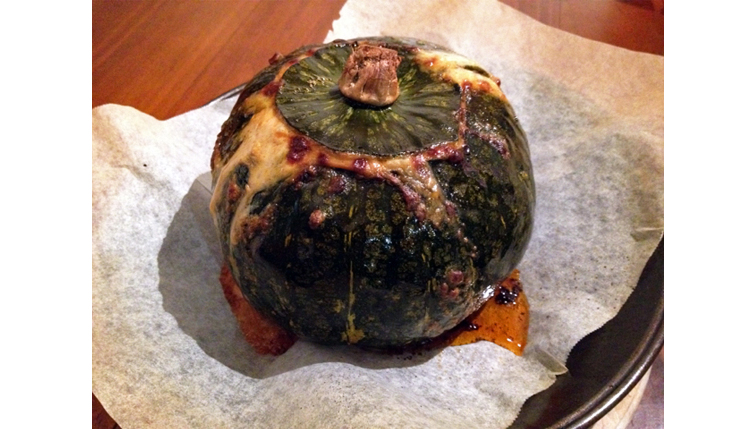 Bubbled beautifully over the edge, and very little oil residue.
In order to get the whole thing ready for the oven really quickly, I made the curry sauce in one pan and quickly sauteéd the veges in another. Usually I would cook the veges in the sauce as it is reducing, but that takes longer and I fancied having crispy edges on the onion and a bit more control over the level of cooking to ensure the capsicum didn't get overdone and soggy.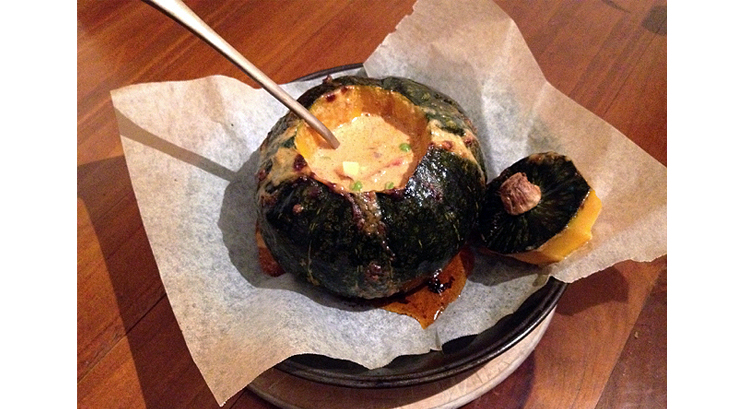 Doesn't the lid look like a mushroom? This seems like something an elf would eat.
1 whole buttercup - choose one that sits nicely so you have an even 'bowl' for your curry
Sauce:
1 Tablespoon authentic Thai red curry paste
1 large clove garlic, chopped finely
1cm piece ginger, grated
1 teaspoon rice bran oil
half teaspoon sesame oil
half a tin of coconut cream
2 teaspoons fish sauce
1 kaffir lime leaf
1 teaspoon light, naturally brewed soy sauce
water (optional)
Veges of your choice. I used:
1 small red onion, handful of leftover peas, half a red capsicum diced, 1 small kumara, cubed.
I really wanted courgette but didn't have one.
Preheat the oven to 180º C or 350º F
Wash Buttercup (use the kitchen scrubber), sit it on an even surface with a towel underneath and cut out a lid around the stalk part. Please use a small sharp vegetable knife for this purpose to minimise the risk of cutting yourself. Don't worry about getting it all neatly rounded, it's a good thing if it's a bit edgy because then you can match it back together easily and keep the lid tight.
Scoop out the seeds with a spoon. You might want to remove a small amount of the flesh too, so you have more room for curry. Dice any removed flesh and throw into your curry sauce. Rub some oil around the outside to keep the pumpkin skin from drying out. Prepare a dish of some kind with baking paper and place Buttercup into it.
Curry Sauce:
Place pan or wok on medium heat. Add oils, curry paste, garlic and ginger to warmed pan. The garlic and ginger help to give something to squish the curry against, otherwise I find it's quite hard to heat without burning or sticking. Stir, squish and cook all of this until a pungent thwack of aroma arises, clearing your sinuses and telling the household that curry is on the menu tonight.
Add your coconut fluid of choice. Mix well and don't worry if it seems hard to blend, it will eventually do this on its own with just a careful watch and a bit of stirring from you. Add the rest of the sauce ingredients and let it bubble away for a good 10 minutes until the sauce thickens, reduces and changes colour to a smooth peanut butter sort of tone. Add water if you want to make more sauce or to quicken the cooking time once it's in the oven, just a little though.
Sauté your veges in some oil or water until almost cooked. Throw veges into sauce and gently stir.
Assembly:
Carefully ladle and pour the curry into Buttercup's cavity until full to the inner edge of the flesh. Don't splash it and burn yourself ok? Pop the lid back on and put into the oven for 60 - 75 minutes, or until you can push a skewer through the flesh easily.
To serve, spoon out the curry and scoop out lots of flesh as you go. It's a bit fiddly but the whole thing looks and tastes so good it's really worth it.