Seller Interview: Sonia Foster from Creative Aertz
Sonia Foster loves knitting. Her creations are all her own designs and come in a wonderful range of size and colour options. I caught up with Sonia in between meetings, lunch preparation and knitting orders for a chat about her creative passion.
Clockwise from top left: Sonia with husband Nick, and children Zac and Esmé; Kiwiana Gumbooties (approved by Skellerup) in progress; Iconic Kiwiana Gumbooties; Baa Lamb Hat; Sweet Raspberry Hat; Shark Attack Hat.
Sonia lives a semi rural lifestyle in the South Waikato town of Putaruru with husband Nick, son Zac, nine years and daughter Esmé, six. Not to be forgotten are the family pets 'firstborn' Mishka, a ten year old Burman cat with 3 legs,
and Daisy, Sonia's best friend. Daisy is a Golden Retriever pup, soon to celebrate her first birthday with a family party.
It's clear that Daisy and Mishka are very important family members and Sonia loves the gentleness that animal
friendship teaches her human children.
Sonia balances family life with knitting, sewing and a small typing business run from home. Somehow this caring, perfectionist mum fits it all in with a spring in her step to boot!
The name Creative Aertz came about from Sonia's maiden name, Aerts. Sonia changed the 's' to 'z' so that it couldn't be mistaken as a typo, and Creative Aertz was born. It is evident in her work that Sonia puts a lot of love into whatever she makes. From fruit hats to shark hats to rastafarian style hats, gorgeous gumboot-style booties and smart adult options,
her creations are original, quirky and fun. She is happy to take on challenges and has recently copmpleted some bespoke hats for a DiscoverMe customer who has happily returned for more!
So what makes Sonia happiest about creating?
"Making something beautiful and that somebody wants. The fact that someone actually wants my product. If I can't do
it perfectly or if somone doesn't like something it breaks my heart, I'm that much of a perfectionist". Repeat customers
and word of mouth references are also a source of satisfaction, "If someone says something nice or sends someone my
way it just makes you feel good".
"Having a creative outlet also means my children don't have a grumpy mother, they know to just let me go and do my knitting if I need to. It's my sanity really, I just love it so much".
What do you find frustrating about this type of work?
"I find it very frustrating when people blatantly copy work, and steal photos. Or make something very similar and sell for less". I can hardly believe someone could sell for less and make any money at all, given Sonia's super-reasonable prices,
but evidently it does happen rather commonly in crafting.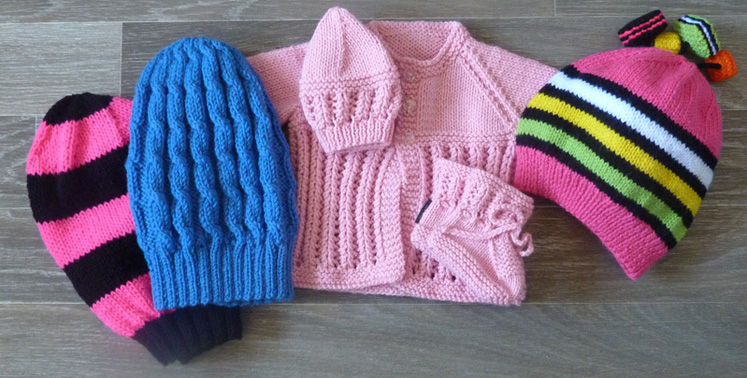 Quality work and attention to detail is Sonia's guarantee.
Here is more from Sonia in her own words:
Tell us about what you create?
My passion is knitting and my knitting needles go everywhere with me. I started with knitting a range of funky hats for children and adults and they were so popular. I have now expanded into beautiful knitted baby wear and love making photography props on request. I like to offer most of my products on a custom made basis so that the customer can choose exactly what they want. I also love to sew and my ever popular personalised bunnies with satin ears (soon to be listed on DiscoverMe) are one of my top sellers.
How long have you been making?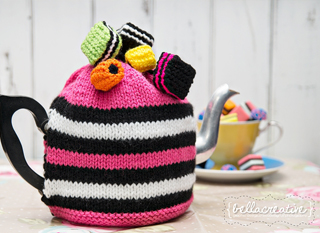 I have been working away on my label for around 8 years and sell through various websites and shops. I started my business when I became a stay at home Mum mainly for my sanity and to have an outlet for my creative mind and so Creative Aertz was born.
How did you learn your craft and what/who are your influences?
I have always knitted since I was a little girl and my Mum taught
me everything I know about the craft. She always had the most amazing jerseys on the go and knitted for tourist shops. I was
always in awe of her work. Everything and anything I see inspires me. I just love colour so I get a lot of inspiration from my children's The ever-popular Liquorice Allsorts design comes in a
brightly coloured books, kiddy TV programmes and nature. Tea Cosy or Hat option.
My brain is so full of different ideas.
Describe your workspace and tools for us.
My workspace is anywhere and everywhere I can take my knitting needles. I have a little space by our sofa where my
wool and patterns sit and everyone knows not to touch it – including the cat and the dog. I even take my knitting
needles in the car when I am the passenger!

Sonia is always open to hearing your ideas if you have a bespoke challenge for her!
Do you have another job?
I was a legal secretary before I had children and the skills I gained have enabled me to create an online transcription
typing business catering mainly to lawyers. I really enjoy this type of work and it works well around my family and my
craft business. But my main job is being a Mum.
Do you have a film or book recommendation for us?
I love lots of movies but my favourite movie of all time would have to be Under the Tuscan Sun. The Italian scenery is
just magnificent and I really like the story behind it.
Care to share a recipe or favourite snack?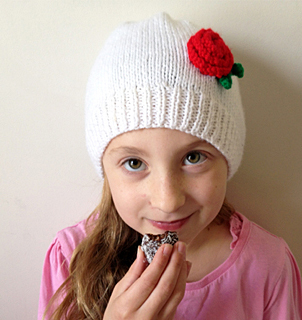 Chocolate Bliss Balls are my favourite snack.
They are full of nutritional goodness.
1 cup raw unsalted cashews
1 cup pitted dates
3 dessertspoons of raw cacao
Blitz ingredients in a food processor until well combined.
Remove from the food processor and put into a mixing bowl and add:
1 tablespoon melted coconut oil
6 dried apricots (finally chopped)
Mix and make into balls.
Then roll in shredded coconut and keep in the fridge.
Bliss Balls are a hit at DiscoverMe central.
Beautiful Rose hat
What is your favourite New Zealand destination?
I would have to say Hamner Springs. What a magical place. A very close second would be Wanaka. I would love to live
in the South Island one day.
If cost was not an issue, what item would be at the top of your DiscoverMe wish list?
I would absolutely love to purchase the CMC Design J10 Chair. I love that style of furniture and I love wood. This chair looks gorgeous and their lounger too!!
Pay it Forward: which DiscoverMe maker would you like us to interview next?
CMC Design – I would love to find out more about the design and creative process behind their pieces.
Check out Sonia's DiscoverMe listings here.