August Prize Draw WEEK TWO 14 - 20 August
A new week, a new set of prizes.
Enter by commenting below (on this page, not using the green Leave A Message pop-up) and you will go into the draw to win the prize each week (or when a new prize is added).
You can enter each prize draw only once, but when a new prize is shown, you can enter for that prize too. Too easy!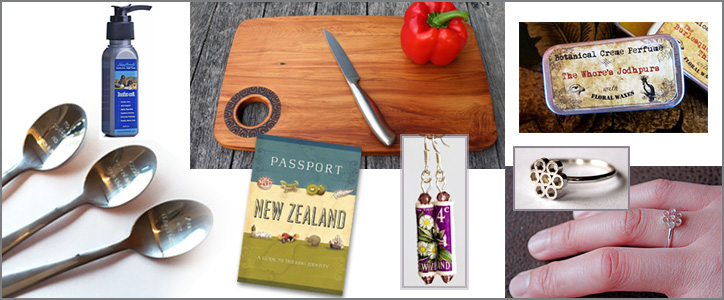 Above, clockwise from top left: 50ml Hoki Oil Pet Supplement fron Newflands, Recycled Rimu Serving Board with Punga Inlay from NZ by Nature, The Whore's Jodhpurs Botanical Perfume by Pacific Perfumes, Sterling Silver Flower Ring by Evora, Matua Tikumu Earrings by FatSprat, Passport NZ by Little Country Books, Set of 3 Handstamped Teaspoons by KJdesigns
What an awesome array of goodness donated by our sellers for this week's giveaway!NB: By entering this draw you agree to have your name visible on this page and on our facebook page. If you are the winner, we'll notify you by email and send the prizes to you, with love.
Please scroll down below to the comments & questions to place your entry :)