WEEK FOUR of giveaways!! 28 August - 03 September
Welcome to our last giveaway week. What a spectacular array of goodies we have been able to share, thanks to our fabulous group of artists! DiscoverMe is proud to present the final swag, worth over $300!
Scroll down the page to enter (not the live chat! Please use the comments & questions area to enter)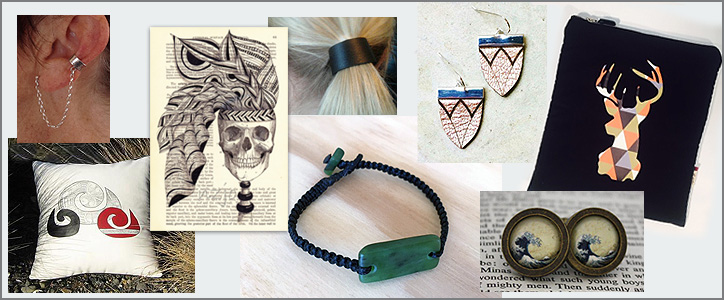 Clockwise from top left: Ear Cuff by Phillip Thornton, Rambo Anatomy Print by Pen in Hand, Leather Hair Cuff by Odi Boutique Jewellery, Magnolia Shield Earrings in Gold Leather by Odi Boutque Jewellery, Stag Print Tablet Case by Il Nido, Japanese Wave Cufflinks by JB Collections, Pounamu Macrame Bracelet by Aotearoa Gemstones, Koru Cushion by Deep Green Inc.
Please scroll down below to the comments & questions to place your entry :)
NB: By entering this draw you agree to have your name visible on this page and on our facebook page. If you are the winner, we'll notify you by email and send the prizes to you, with love. (NZ addresses only)