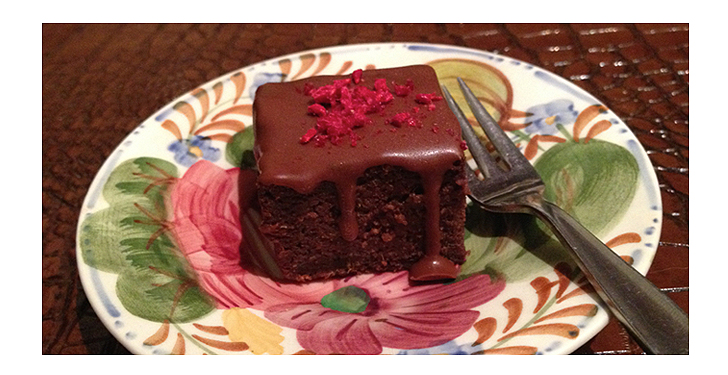 Recipe: Jo's Healthy Brownie-ish Treat
It's confirmed - chocolate is good for your health! Hurrah.
This simple treat is similar to a brownie but its richness comes from a surprise ingredient - kumara! Roasted sweet potatoes develop a super sweet flavour and great smooth texture that makes this slice real food, not calorie-laden junk.
Works beautifully in the freezer and needs only a couple of minutes to thaw... about the time it takes to boil the kettle for the cuppa to enjoy with it. Also a great 'plate' to take when you have food intolerances to consider.
Paleo friendly, gluten free, lactose free and unrefined without suggested topping. Choose a topping that suits your food requirements.
Ingredients:
2 large orange kumaras, baked until very tender. Leave to cool and the skin will lift away easily.
(NZ purple kumaras can be used, but have a firmer texture so you may need an extra egg or coconut oil for fluid)
1/2 - 3/4 cup organic cocoa (less if using pure cacao) - yes, a lot of cocoa!
1 egg
2T honey & 1/2 cup coconut sugar - add these sweeteners to your taste. If not using icing I would probably add more, or include 4 soaked and blended dates.
1 teaspoon vanilla paste
small teaspoon baking powder
good pinch of salt
1/3 - 1/2 cup coconut flour depending how wet the mixture is
1/4 cup coconut oil, melted over low heat
Method:
Blend everything in a food processor or whisk well until the whole mixture is smooth. Taste and if you can still taste kumara, add more cocoa and/or honey as you see fit.
Spread into a lined tin and bake at 180 C for 20-25 minutes until set and coming away from sides of the tin. Great with or without icing.
Icing: Melt 1/4 c coconut oil and 1/2c choc chips then pour over cooled cake in a thin layer. Top with crumbled freeze dried raspberries for a very special flavor and look.
Tip: Cut into squares first, then separate slightly so the chocolate topping can drip down the sides of each piece.
Serve with créme fraiche and a swirl of liquid honey for special occasions.
Topping ideas: Dust with coconut sugar or cocoa. Sprinkle with lavender (rolled flowers), cacao nibs, chopped pepitas (pumpkin seeds) or pistachios.