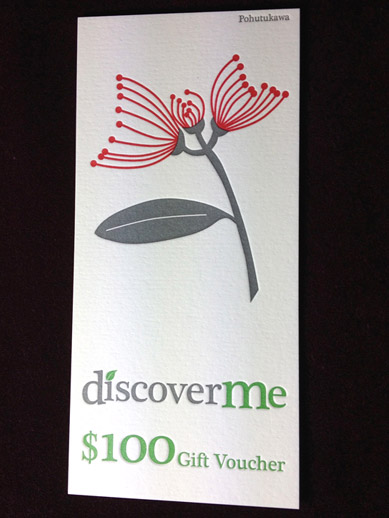 With so many gorgeous products on Discover Me, it can be very difficult to choose a gift for someone.
Now with our beautiful letterpress gift vouchers, you can give a gift that everyone will love!
Our $100 gift voucher features our own representation of the iconic Pohutukawa flower.
These vouchers are a piece of artwork on their own. Each voucher comes with a magnet on the back so the recipient can show it off from their fridge.
Our standard gift voucher terms apply :
• Vouchers can be purchased for values of $20, $50 or $100.
• Vouchers can be used only for purchase of goods from the Discover-Me.co.nz website.
• Vouchers are valid for a period of 12 months. An expiry date is clearly printed on each voucher and the voucher will be void after this date has passed.
• Vouchers may be used to purchase goods of a higher price than the voucher value upon payment of the difference using a valid and accepted credit card or by direct debit. If direct debit is chosen as the preferred method for the remaining amount, goods will NOT be despatched until the difference has been paid into the bank account as per the instruction on the email.
• If the voucher is redeemed against an order of value less than that of the voucher, then the voucher may NOT be used again for the amount remaining.
• Only one voucher may be redeemed per order.
• Multiple products from multiple sellers can be redeemed by the one voucher.
• Vouchers are in NZD.
• Each voucher is identified by a unique code and can be redeemed only once.
• Vouchers cannot be exchanged for cash, returned or refunded.
• The customer bears sole responsibility for lost, stolen or damaged vouchers.
This product will be despatched in approx 2 days. Delivery times may vary.
SHIP TO
COST
WITH ANOTHER ITEM *
Courier within NZ
Free
Free

* Applies if you purchase additional items from the same seller. Free freight applies to the item with lesser freight cost.
Gift Voucher $100
$100.00

NZD









Average 5 stars from 4 reviews
Got a Question?
About Discover-Me.co.nz

Seller Reviews
Marilyn





Gift Vouchers to this site always a well received item!!!
SHONA





Kia ora, I just happened to stumble across your website when trying to find something for our daughter for Christmas. After looking on the website I couldn't decide what to buy as there were so many lovely things to choose from and things that I knew she would like. Then I saw you could purchase a gift voucher :) I was wrapped with how the voucher was presented and with the surprise gifts that came with it. Our daughter is now happily checking out your website deciding what to buy :) Also we were impressed with how quickly it arrived here on the Chatham Islands. Since arriving here earlier this year, we have learnt the need to shop online! DiscoverMe has made this a successful experience, I will definitely be recommending you to other Islanders. Happy New Year and many thanks, Shona
Jennie





I like the cards and decals for the front. Having the message included on a card is a good idea. The service was prompt. The only problem was one of the cards had a dirty mark on the front which I will have to cover with a Xmas sticker or something. I am posting one of these away and would of like the option of envelopes. Would buy them again.
See Seller's Other Products