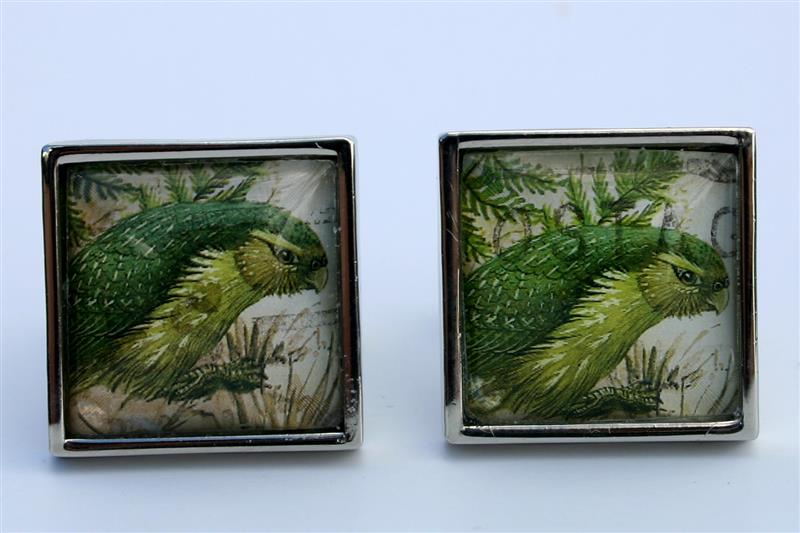 These Cufflinks are from my range of Postage Stamp Kiwiana jewellery, using real stamps. These Cufflinks use the two original stamps of the Kakapo from the 1986 pictorial stamp issue.

I have had these cufflink findings specially made. They are heavy and solid and made to be enjoyed for a lifetime. Silver Plated and made with an acid free image set under hand shaped glass. They come in either round or square and are presented in an elegant cufflink box.

Kakapo: Issued 1 May 1986 - 30c
Though it resembles an owl, the beautifully patterned kakapo (Strigops habroptilus) is actually a species of parrot. Practically flightless, it is a ground-dwelling bird found in mossy beech forests, and alpine meadows and scrub. The kakapo is nocturnal and vegetarian, feeding on a variety of plants such as the leaves of tussock, rushes, fern, berries, leaves, and roots, and is famous for the large 'dust bowls' which the males make as part of their courtship display. Once widespread throughout New Zealand, the kakapo suffered heavy predation and was feared to be close to extinction until a small population was found on Stewart Island in 1977. Now found mainly in small and isolated areas of Fiordland and central Stewart Island, the kakapo is thought also to exist in parts of the North Island. The kakapo is still extremely rare.

I have a range of images available. Stamps issued before 1936 may be reproduced, however those after are subject to copy-write. Hence I have been able to reproduce some stamp images. I have also made a stunning range of cufflinks using the original stamps. Postmarks and variations in stamp issue colours add to the unique nature of the historic and one off piece.
Dimensions
Square 20mm x 20mm

All Jewellery comes gift-wrapped. Please let me know if you would like a special message card included.
Other images in this range are available

Standard post is used and the cufflink box is bubble wrapped and wrapped in card. I cannot take responsibility for what occurs in the post after it has been well wrapped and sent.
This product will be despatched in approx 2 days. Delivery times may vary.
SHIP TO
COST
WITH ANOTHER ITEM *
Postage within NZ
$3.00
$2.00
Courier within NZ
$4.50
$2.00
Australia - Post
$7.00
$2.00
Rest of World - Postage
$12.00
$2.00

* Applies if you purchase additional items from the same seller. Free freight applies to the item with lesser freight cost.
Kakapo original 1986 stamp cufflinks
$46.00

NZD









Average 5 stars from 15 reviews
Got a Question?
About Firecracker Studio

Seller Reviews
Helen





Very happy with product and delivery.
Mira





The nicest jewellery I've purchased for a long time. Really well made, beautiful to look at and swiftly delivered. I have received heaps of compliments about them as well!
Tanya





Great products thanks
See Seller's Other Products